project

⁄
partners
primary partners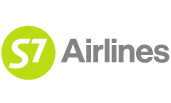 The Official Partner of the Project
S7 Airlines has the wide domestic route network within Russia, based on air transport hubs in Moscow (Domodedovo) and Novosibirsk (Tolmachevo). It also serves flights to CIS, Europe, Middle East, South-East Asia and Asia-Pacific region.
In 2010 S7 Airlines joined oneworld global airline alliance, lining up 15 world's leading airlines from every continent of the world. In cooperation with oneworld member airlines S7 Airlines serves more than 1000 destinations in 150 countries.
S7 Airlines currently operates one of the newest and most modern aircraft fleets on the Russian air transportation market.
S7 Airlines is part of the S7 Group. In 2014, group member airlines carried more than 10,066 million passengers.

OOO "NOVAPORT" is part of the group of companies AEON Corporation and specializes in the implementation of comprehensive airport development programs.

500px is a photo community and marketplace designed to enhance and support the creative process for creators and buyers. More than 6 million creatives use the 500px platform to improve, showcase and monetize their work. The 500px marketplace provides buyers with the opportunity to license fresh, powerful images to use in their creative campaigns.
The company is headquartered in Toronto, Canada where it was founded in 2009 and has an office in San Francisco, USA. 500px has raised $23 million in funding to date, from Andreessen Horowitz, Harrison Metal, ff Venture Capital, Visual China Group and other investors.

Author of the branding style for the Best of Russia project and the design for the Best of Russia album.

Russia's largest photo holding.The company ProLab was founded by the company Kodak in 1997 and developed parallel to the growth of interest in photographic art in Russia.

Garin Studio is an agency for internet advertising and innovative marketing. Garin Studio Agency innovative marketing. Garin Studio offers services for the creation and support of sites, planning and carry ingout advertising campaigns on the Internet, and also the development and implementation of business systems. Garin Studio offers unique marketing decisions to promote the leading Russian and Western social media companies.